Bronze Bell Carriers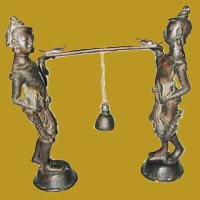 A pair of bronze bell carriers, together with beautifully decorated carrying beam and bell. Both figures are finely detailed. Age unknown. 9" high.

EUR € 250.
0170 (above) click here to see the product in more detail.
Please be aware that these images are large and may take some time to download depending on your internet connection.